About Us
Our desire
we have a passion for helping you clarify and achieve your online goals
we want to see you avoid common – and costly – mistakes (like these)
we place a high value on communication, as well as quality
we show you how to leverage tools available to you so you can be freed up to do that small list of things only you can do
we love to equip and educate you so you're more independent when we're done
Your point of contact
J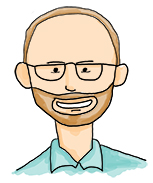 on Stamberg grew up along with the IT industry, then served as an IT project manager for 8 years, went to graduate school, and in 2011, started Ambitechstrous.  He's your one-stop-shop for any project and he takes responsibility for integrating all its pieces (incidentally, systems integration was his very first role in his IT management career).
His consulting and solution providing have extended to three continents and spanned the disciplines of marketing, web development, graphic design, SEO, hardware and software configuration, mobile technology, video-teleconferencing, single-channel satellites, single-channel radio, LANs, WANs, and cryptography.
Our team is your team
Jon leads a team of specialists and organizes them to accomplish your goals… kind of like a general contractor builds your house for you.  This team include professionals in the areas of graphic design, marketing, web languages, search engine optimization & marketing, content management, server administration, testing, quality assurance, and more.
What does this mean for you?
If you are in need of quality web services, but don't have enough work to hire a full-time employee, Ambitechstrous is a great fit for you. Not only can we do what you brought us on for, but also, when your needs grow, you'll find our team has the additional skill set you will need.